You are currently browsing the category archive for the 'Highland Park News' category.
This week marks the 70th anniversary of the incorporation of the HPCC!!! For 7 decades, longer than any other community organization in Pittsburgh, the HPCC has worked to build community in, and advocate for, our neighborhood. Help us celebrate our 70th Birthday by joining us for our annual meeting at 7pm on June 15th at St Andrews. More details coming soon!
Zone 5 is switching to an automated system for delivering our weekly Community Crime Updates.  To ensure you continue to receive your weekly updates, SIMPLY PASTE THIS LINK INTO YOUR WEB BROWSER and sign-up: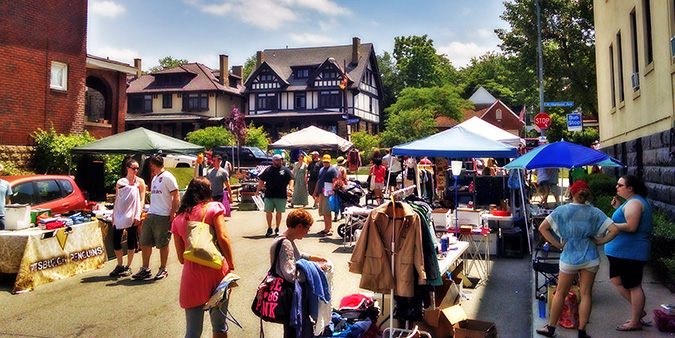 Join us on Sunday June 4th for our annual multi-family Highland Park Community Council Yard Sale and Bryant Street Festival!
Yard Sale
The festivities begin at 9 a.m., when over a hundred Highland Park homes will set up tables and offer items for sale to thousands of bargain hunters walking through the neighborhood. To make it easy for shoppers to find your yard sale, maps of the neighborhood with a listing of items are distributed to everyone. Click here to register as a seller.
Bryant Street Festival
After a healthy morning of walking our tree-lined streets in search of your favorite yard sale find, we invite you to join us on Bryant Street, the heart of our business district, for live musical performances, delicious foods from our local businesses and neighbors, and artists selling their jewelry, ceramics, stationery and much more. There will be activities for kids of all ages. Festivities kick off at noon!
Hello Neighbors!
Join us
this Thursday
,
7pm
, at St. Andrew's Church for the monthly community meeting of the HPCC. This month, we've invited the candidates for Mayor to give brief remarks and answer questions from Highland Park residents. Each candidate will speak and take questions separately. This is a great opportunity to hear from the candidates and ask them questions on issues important to you!
As of this writing, Councilwoman Darlene Harris and Reverend John Welch have confirmed their attendance, and Mayor Bill Peduto is pending confirmation.
Hope to see you
on Thursday
!